90cm Metallic Confetti Balloon 
Clear latex balloon filled with white, mylar gold & silver jumbo confetti
Balloon size – 90cm | Confetti Size will vary from 1cm – 3.8mm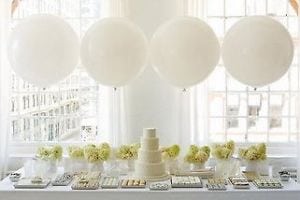 Helium balloons will slowly decrease in size from 90cm and have a float time 24 to 36 hours (Tassels added will reduce float time due to additional weight 12-18 hours)
Click here for more information on PICKUP & DELIVERY
FREE pickup is available from our Retail Store, however pickup times must fall within store opening hours. We offer delivery 7 days a week, between 9:15 am and 6pm daily, should you require delivery outside these times please contact us first and we will be more than able to accommodate your request.
The Decrotex range of decorator quality balloons & accessories has been developed with the help of our industry professionals and was launched at BASA ABC 2007 where it gained the acceptance of the balloon decorator market. The range has been developing ever since and has been a very successful range for its users.
With the balloon decorators in mind, we have paid particular attention to colour, shape, quality and value for money when developing this balloon range. Testing has given us float time results between 44-48 hours without High Float.